Your child's private space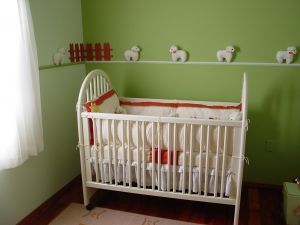 Your child's room has to be as childish looking and spacious as possible. At one stage it can become a mysterious fairy world, at another stage a playfield, rest room or just a space where your child studies, reads and makes home work. Such a functional and easily transformed space can be created by making a suitable choice on your child room's furniture and accessories.
Furniture for children should be safe, firm, aesthetic, mobile, easy to transform, spacious, made of natural, ecologic materials; wood would be the best solution.


Whilst creating your child's room interior, feel free to involve your child in the creation process. Let them choose the colours, furniture and make a decision on where the child wants to have the furniture placed. This will allow him feel the master of the situation whose opinion is reflected on. If the child is too small to participate in creation of the room interior, it is advised to observe which ones are most favored by your child.

What about a child in the space of an adult? Lots of children fill their child's room with furniture for adults. However, this kind of solution does not give the child an opportunity to enjoy a childish life, develop creative, mental and aesthetic abilities. In such case, the child is simply not given an opportunity to be just a child and to live in a space that reminds of a miracle world.
What is more, the furniture of an adult room can look too boring for your child as well as not mobile enough, for example, the child will face difficulties bending the sofa and it's not cozy to be in between them. You will have a chance to fill your child's space with such furniture as soon as your child is grown enough for changes.

Modular furniture
You will have least problems and the highest level of convenience if you go for transformable modular furniture. They can be easily bended and joined. According to the age of your child, how quickly your child grows as well as his wishes, modular furniture can be heightened or stretched, old accessories can be removed and matched to the new ones, for example, a two-level bed can be separated into a single one, etc.
They are quite similar to stacks and used similarly as these ones. These are simple wooden frames, which can be extracted in parts or reassembled, an extra shelve or closed cupboard can be added, lifted up or simply disassembled. Whereas, the coloured details can be easily placed one on top of the other by changing the room interior of your child this way. The most practical and convenient furniture is a writing table as its height can be set according to your child's height.


Modular furniture is not just tables and shelves but also beds of this type. For example, you can purchase a two-level playful looking bed for your little daughter, with a fixed castle tower on its corner and ladders coated with a bright fabric leading to a bed on the top. The corners of such bed can also be fixed with special pockets to place the toys. It is both practical and convenient. Once the child gets a little bit older, you will be able to remove the top bed, and place two beds one next to each other. Such modular furniture makes the child's room more functional, interesting and playful. It's just normally not easy to get those in nearby markets.

Playful looking and bright
It is not necessarily needed to choose modular furniture for your home interior. It is most important that they meet your child's character, interests, are colorful, playful, convenient and practical.
If you have noticed that your son has an interest in racing cars, why not to decorate his house as such. Nowadays, it is already possible to find a bed which reminds a racing car, even with wheels. It is also possible to match decorations, cupboards, shelves, armchairs, writing tables on the basis of a racing topic.


You can also go for the furniture of a simpler, classic design, without sophisticated bright solutions for your child's room. Even the wooden ones could be a great possibility. In this case, you should think of bright details - curtains, carpet, and bedding. If you paste the cupboards with special decorations, it will create a more original effect, though a simpler and more creative way of decoration is painting with furniture gouache or moist colours. It is easy to clean the furniture off this way.


Normally, child's furniture has a lot of drawers. You can find them not only in the closet but also in smaller cupboards and commodes as well as the bed itself. For example, if it has even two drawers, one can be filled with bedclothes, whereas the other one can be used to keep your child's most favorite dolls or simply place its little clothes.
Accessories
The suitably chosen wall colours, flooring (carpeting is best for the child's room), furniture - the main parts of your child's room. Interior can be given more variety with special accessories, extra details. For example, you will achieve original looks in your daughter's room if you place a bright flower shape soft pouffe or flowery armchair, playful paintings on the wall, cushions.