Tips on your bedroom space
Bedroom is one of the most important areas in your home interior as a nicely designed bedroom is a guarantee of better rest and bright moods. That's why comfort, functionality and coziness are so much important in this room. So which part of the home is to be best for the location of the bedroom and how it should be designed.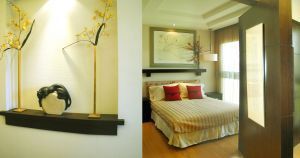 According to Feng Shui a properly located bedroom is not only good sleep but also a happy marriage. It is important to see a lovely view once you open your eyes. Even though not everyone can afford an apartment with the views of lovely nature, everyone can make sure that once you wake up your eyes notice something pleasant and lovely, especially people living in cities whose nature outside is very much surrounded by glass and concerete. That pleasant view can be a painting, curtains or a picture of an important person. The most suitable photo could be the one from your holidays or the one where you smile.
When it comes to a location of your bedroom, it is first of all recommended to make sure that it is not located close to a main entrance of your home or entrance to an apartment. It should be a quiet place and preferrably not visible for the eyes of a stranger. For older people it is recommended to go for a bedroom on the west side of the house as this part is energetically the warmest part of the house, whereas a bedroom of a teenager, on the contrary, should be on the east part of the house as it ensures a flow of energy in the morning.
There is no way a bedroom should be located in an area above the garage as people sleeping in such a room might face breathing problems. The bedroom doors should not be in front of a loo or a bathroom. Though, some people think that it is very much convenient to have the bathroom doors located near the bedroom.
Even if you enjoy the looks in the mirror when you get up in the morning and before you go to sleep, it is adviced not to hang those on the walls of your bedroom. Unwanted items should not be stored under your bed either as this could be a reason of sleeplessness. What is more, it is recommended not to have ventilators or heating devices in your bedroom as these might be a reason of a poor sleep due to the electromagnetic arrays that these transmit. Electronic alarm clock on your bedroom table or electric devices fitted in a wall are also not recommended due to a possible negative flow of energy.
If you live in a house and your bedroom is located no further than 50 m from the river, you need to make sure you sleep according to the water flow direction. People who sleep according to water flow direction tend to wake up lively, energetic and cheerfull in the morning, whereas those who sleep against the water flow direction are more likely to wake up sleepless, tired and irritated.
As functionality is a very much important aspect in your bedroom, proper layout of furniture should be considered. If you are about to design the layout of your bedroom without the help of professional designers, first of all you should be aware of a few things:
- whilst you sleep, it is not recommended to have your head on the side of the the bedroom door. This creates a feeling of unsecurity as you cannot immediately see who enters the room.
- it is better if your bed is located near a wall or at least a half-length decorative cupboard.
- above your head it is definately not recommended to have any heavy paintings as these can interrupt good sleep.
- in a small room it not recommended to place a japanese style bed with wider corners - you will loose half of a plot which is needed for an easy walk around.
- if there is a small gap between the end of a bed and the wardrobe, choose a bed with round corners so that you would not get your legs hurt in to the sharp corners.
- in a small standard apartment bedroom it is recommended to choose a wardrobe of neutral light colour (more similar to a wall colour) with sliding doors.
- light-weigh furniture will undoubtedly look nicer; what is more, sliding doors, differently than the stringed ones, do not take extra space.