Off-shore System Living Area

Off-Shore, designed by Giuseppe Bavuso for ALIVAR, consists of an extremely elegant composite furnishing range for high-profile living areas. It consists in a series of self-supporting panels which internally comprise all the technical assembly elements and audio-visual equipment appliance user points,, which can be fitted and customized with a wide range of different accessories. Used either as free standing elements or combined with other large compositions, they permit a vast range of expression and meet a whole host of furnishing tastes. Off-Shore distinguishes itself by virtue of its great versatility, generous proportions of its accessories together with its stylish minimalist design, ideal for today's understated upper middle class.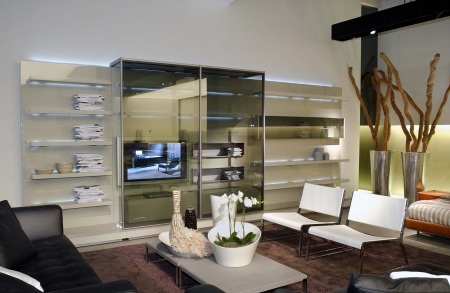 Accessories: rear illuminated shelving, display case, DVC storage racks and decoder support shelves, which are again modular and which can be arranged and positioned to taste, on a grid of 40 cm. in height. The collection also includes a series of floor benches, which can be fitted with containers for the arrangement of drawers, as well as large sliding glass doors which can to both screen and decorate the wall.