Hurricane Resistant Construction
Article by
Bill Bradley
I am a builder not an engineer, so I will try to give you a non-technical over view of how we build houses where I live in Darwin. Ours is the capital city of the Northern Territory of Australia. We are 10 degrees south of the equator and so slap in the firing line for those intense tropical storms that we call Cyclones.
In your part of the world you may have a different name for them, typhoon, hurricane or even tornadoes, they may be caused by different circumstances than our clockwise revolving tropical storms, but in all parts of the world, these severe wind storms mean trouble! Trouble and danger to the people and buildings in their paths.
I have built houses the old way, before cyclone Tracy (Christmas Eve 1974, a date that none of us that went through it will ever forget), and ever since then under the new, far stricter building codes. So in effect, every job that I have done in the last thirty odd years, either full house, addition or alteration, has been built under strict cyclonic or hurricane construction building codes.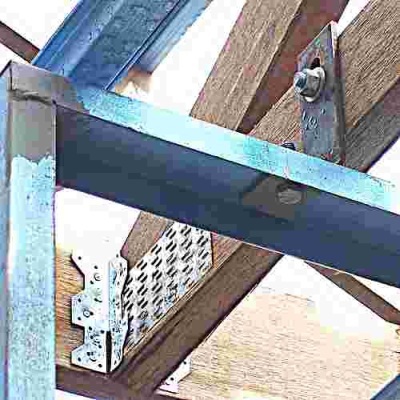 Hurricane construction. An internal steel frame shear wall showing the plate steel bracket connection to the roof truss over. Note the truss connection to the truss square off it. Also note the use of pressed steel ceiling battens and the heavy square plate steel washer, used on top plate connection to angle.
Imagine this, a giant hand digs into the ground around a house, and turns it upside down. Gripping the house by the foundations.
With the old methods of non-hurricane construction this house would just fall to pieces. The way that we used to build in the old days, (and the way that most of the world still does build,) was that houses were built just to hold themselves in place with a few nails and bolts, with the dead weight of the materials and gravity doing the work of holding them together.
It is a whole new ball game now. Engineers design the houses to withstand the huge forces generated by the wind. The house has to resist the direct side forces of the wind and the suction and uplift forces that are capable of defeating gravity and then some.
So, the whole house has to to be designed and constructed as a whole.
Back to the giant hand that is holding my house upside down. Imagine someone then placing a bag of cement everywhere possible on the inside of that roof surface. So that the whole of the roof surface has attached to it many many tonnes of weight that is working to break every connection that is holding the house together.
The whole house should still hang suspended from it's footings and not give way anywhere.
For a house to attempt to survive a severe cyclone or hurricane the structural engineer designs and the builder must build so that:-
The foundations should be heavy enough and / or have a sufficient grip on the ground.
The walls should be firmly attached to the footings, they should be either solid enough or braced to resist sideways wracking or distortion.
The surface material of the outside walls has to resist impact from flying objects.
The roof should be tied down to the walls.
The roof members are all tied together.
So, from the soil to the foundation, to the wall,to the roof, to the last roof screw holding the roof sheeting, there should be a complete chain of connections.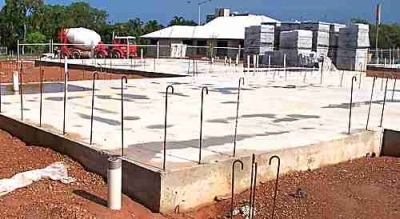 Hurricane construction. A concrete raft slab foundation showing the cast in starter bars for the blockwork walls. Note! the hooks are not required for structural reasons, but for the safety of workers. On larger bars (N16) plastic protectors are used for the exposed ends of the rebar.
Foundations.
We always use concrete. Mainly concrete raft slabs on the ground, or concrete strip and pier footings for supporting masonry or steel columns.
Typically the slabs will have extensive perimeter edge thickening beams with rebar cages and also thickening at the positions of the internal shear walls.
There is always, one way or another, cast into the concrete either starter bars for blockwork, bolts for steel frames, bolts for structural steelwork, or in some cases like
It is at times acceptable use epoxy bolts to fix internal walls to the concrete slabs, where it is inconvenient to cast them in-situ.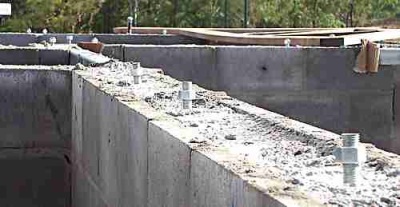 Hurricane construction. The top of a reinforced concrete blockwork wall, showing the cast in bolts to secure the roof trusses.
Masonry walls. The old brick veneer and cavity walls are not used for load bearing, being replaced by modular concrete blockwork, with many of the cores filled with concrete and rebar.
Typical vertical wall reinforcing will be a core filled with N15 concrete containing rebar at every corner, alongside every opening and at maximum 600centers elsewhere. This rebar will be lapped to the starter bars into the foundations and hooked into the bond beam above.
The horizontal reinforcing will be a continuous bond beam containing usually 2 rebar. Quite often it is a double bond beam.
There is always a reinforced beam over all opening, sometimes a double beam, and many times a reinforced beam under window openings.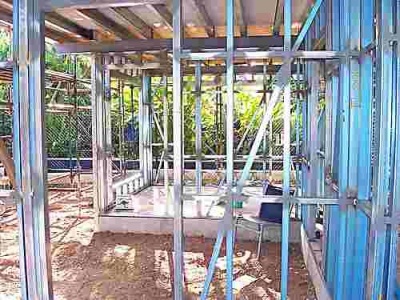 Hurricane construction. Ground level steel frame walls on a raft slab, with steel joists and ply floor of upper floor over. Note the angle bracing, and the integration of RHS members where required. Also note the site welds where the workshop made frames are connected together.
Stud walls
. For lightweight construction, timber frames can still be used, with hold down bolts and timber connectors, clad externally with structural ply to provide the bracing required. This is rarely done, because of the cost of timber and labour of fixing all the connectors and bolts.
Far more common because of the cost and strength properties is the use of steel wall frames, that are made from rolled steel sections, mig welded with integral steel bracing.
There are differing sections and thicknesses for various applications.
For example internal walls may be 1.2mm thick steel, while external walls use 1.6mm steel.
There are in additions special stiffened top plate sections for high load walls.
At the side of door or window openings, it is common to incorporate RHS (rectangular hollow section) welded into the wall frame at these high load areas, with RHS head sections above the openings.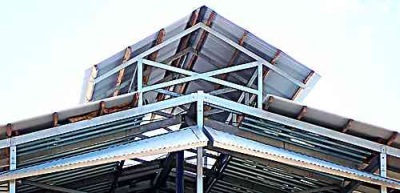 Hurricane construction. A combination of, off site fabricated steelwork, site welded steelwork and bolted timber purlins. Creating a tremendously strong roof yet with a light and airy modern feel.
Roof structures. Vary from multi nail timber trusses to any of a range of all steel, or a combination of steel and timber layouts. The old all timber carpenter built roof has disappeared.
Gang nail trusses are cost effective and can span quite large distances. They need a certain height to be effective and so are not suitable for flatter pitches.
Once secured at the walls with hold down brackets, a simple system of timber connectors and straps makes a solid secure roof framing.
All steel construction varies from using typical industrial shed type materials, with the design freedom of steel, allowing curves etc.
Featuring in steel roofs (and floors etc.) for hurricane construction is the use of fully welded joints and beams with welded cleats to allow other members to be bolted on.
Every material or component that goes into the structure of a house is detailed in our DTCM. This is our so called Deemed to Comply Manual.
For example, if I read on a drawing "Roof sheeting Trimdek Hi-Ten, fixed to DTCM M/101/9,10,11".
Then this is a concise description of the roof sheeting and I can go to the manual to look up the details.
When the manufacturers first brought this product on the market, it would have been tested and certified for use under the conditions that are stated in the three pages noted in the DTCM.
These pages are very detailed, giving the types of fixings required, spacing of supports etc etc.
It is an extremely good system, as there is no doubt as to what is approved to use and how to correctly fix any part of the building structure.
Just to wind up this short article on a very complex subject, as I write this (October) we are entering our cyclone season. A visitor to our city might think we are a lot of untidy sods as it seems that every third house has a pile of crap outside it in the verge. Old fridges, bicycles, tables etc.
What has happened (it happens at this time every year), is that we are all urged to clean up our backyards of the rubbish that could turn into potential dangerous missiles in the event of a severe storm. The city council will send out teams of men with trucks to cart this rubbish to the dump.
A neighbour's old fridge traveling at 200Kph could go a long way towards spoiling my day if it came through my new sliding door.
Bill has his own building related
website.