By Paul Bianchina
A living room with a fireplace is a great place for families to gather, talk and relax. There is something so soothing in watching the flames dance and the logs crackle. There is nothing soothing, however, about chopping, hauling and storing that firewood. This is why many of us are turning to natural gas fireplaces. They are a cleaner, efficient and highly attractive alternative to a wood burning fireplace.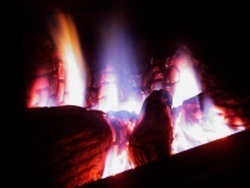 Gas fireplaces -- whether freestanding or built-in -- are available in a surprising number of sizes, styles and colors. They can heat a single room or an entire house, and offer a variety of options to increase convenience and efficiency. And whether you currently have a freestanding woodstove or a conventional fireplace, in most cases there are gas units available that will replace the old wood-burner and utilize the existing hearth and other masonry work. Also, if you don't have natural gas available in your home, most of these fireplaces are available as propane-fired units as well.

Selecting a Gas Fireplace

The first step in the selection process is to visit a couple of showrooms and see what's on the market. Look at the styles that are available -- which range from old-fashioned to ornate to very contemporary -- as well as the colors, features and warranties of the various units, and the service and reputation of the dealer. Once you find a size, style and store that you like, a representative from the fireplace store will need to make a site visit to your home to analyze your specific installation.

As with woodstoves, gas fireplaces need to be sized to the area you intend to heat. Many gas units will be advertised as being capable of heating a certain number of square feet of living space, but this is usually based on 8' or even 7 1/2' ceiling heights. If you have vaulted ceilings, or if you have a two-story house that is relatively open between the floors, these figures can be misleading.

A more accurate way of sizing the unit is to have the dealer conduct a modified heat-loss calculation for your home. This takes into consideration the actual cubic footage of the area you want to heat, as well as how good or bad the insulation, windows, and other energy features of your home are. Remember also that it may be difficult to utilize a single gas fireplace to heat an entire home -- the room where the unit is located will often become uncomfortably warm before a sufficient amount of heat reaches the back areas of the home.

Options and Accessories

One aspect of gas fireplaces that many people find extremely attractive are the optional accessories available. These include:

* Fans: A small electric motor operates a quiet and powerful circulating fan for better heat distribution. Some units have a fan and switch built right in, others offer the fan as an accessory that can be added at a later time.
* Thermostats: A very popular option is thermostatic control, which turns the fireplace on and off at preset temperatures, like a conventional furnace.
* Remote control: For the dedicated couch potato, some gas fireplaces are available with an optional remote control. The remote can be used to turn the fireplace on and off, regulate the flame height, and control the activation and speed of the circulating fan.
* Logs: With most companies, you can chose the type of "logs" the fireplace has -- oak, birch, etc. Gas fireplaces utilize a special type of virtually indestructible ceramic log, and many of the ones in use today are surprisingly realistic in appearance, both when the fireplace is off and when the logs are "burning" -- right down to glowing embers in the bottom of the firebox.

Installation

If you're a very skilled and versatile home handyperson, installation of a gas fireplace may be something you're comfortable undertaking. But for most people, the combination of skills required makes this something best left to a professional installer. Most fireplace stores either employ their own installers or can arrange for a qualified person to do the work -- remember that the installation company must be licensed, bonded and insured.

There are three basic components of a gas fireplace installation -- gas piping, installation of the fireplace and flue system and, if your fireplace has a fan and a thermostat, electrical wiring for the installation of a plug, switch and wiring for the thermostat.

Gas pipe size is determined by the size and location of the fireplace, and must be done in approved, threaded black metal gas piping. A shutoff valve is required at the fireplace, and the type, location and accessibility of the valve is specified by the building codes.

The codes and the manufacturer's specifications also dictate the type and size of the hearth that the fireplace sits on, as well as the clearances between the fireplace and any combustible materials behind and to the sides of the unit. Gas fireplaces also utilize specific types and sizes of flue piping, and in most instances they cannot be vented into an existing masonry chimney or utilize existing woodstove flue pipes.

In virtually all jurisdictions, gas fireplace installations require a mechanical permit for the gas piping, as well as a permit for the fireplace and flue installation. Don't skip the permit process -- in addition to being required by law and helping to ensure that the installation is safe and proper through inspection by an impartial third party, failure to obtain the proper permits may void your homeowner's insurance policy in the event of a fire. Consult with your dealer and the local building department for complete information before any installation work begins.

Copyright 2006 Paul Bianchina