Flat roofs are the roofs with the slope of 0,7o-7o. This type of roofs is traditionally used in industrial or dormitory buildings. Besides waterproofing and heat insulating, modern flat roofs serve as an additional effective space. In urban areas flat roofs are turned into patios, gardens, recreational zones or children playgrounds.
According to their function, flat roofs can be classified into accessible and non-accessible, whereas by type they can be either traditional or inverted. There is also a sub-type of inverted roofs distinguished, that is green roofs.

Traditional flat roofs

The surface of such roofs is a waterproofing coating. They can be frequently observed in old buildings. The technology has disadvantages as the waterproofing membrane is vulnerable to sudden temperature and atmospheric changes, while in the case of an accessible roofs it has to withstand mechanical loads as well. What is more, leaks are problematic to detect on such a roof.

For waterproofing, roll-out bitumen membranes are typically used. The most popular type used to be asphalt felt (with paper base soaked in bitumen as a reinforcing material). Modern roll-out bitumen products use more durable materials for reinforcing, such as fiberglass, polyester, or jute. Bitumen is mixed with polymers increasing its elasticity and ability to withstand negative temperatures.

The simplest way to repair such roofing is to apply liquid bituminous grout on the areas of possible leaks. Besides, there are more problems: usually the quality of such roofing is low, heat insulation does not meet modern standards. The quality can be checked by observing the roof after the rain: according to modern requirements water has to run off the roof within two hours. One layer of roll-out membrane may not solve the problem. Besides, the need for supplementary insulation has to be evaluated right from the beginning. Heat insulation might be too thin to fulfill the new building requirements.

If no thermal insulation is applied additionally, the simplest is to apply one or two layers of torch-down roofing membrane. First, you need to make sure the old roofing has no bubbles, earth or any debris on it. In the case of previous leaks, roof structures need to be dried off. The inner layer of torch-down membrane is heated (160-165 degrees) with a special torch for as long, as it is specified by the manufacturer (usually within 1 or several minutes), until the bituminous layer become liquified. The weakest spots requiring the highest installation skills are the seams and areas around the edges and chimneys.

There are several requirements for roofs:
In the areas where waterproofing insulation is connected to a vertical roof surface, it should rise to the height of at least 30 cm, the edges should be thoroughly sealed to prevent water from getting inside.

Installation of vapor barrier has to ensure waterproofing of roof structures, the value of insulation resistance is calculated by estimating the temperature under the roof, outside temperature and relative humidity.
While reconstructing a traditional roof one has to consider laying down vapor barrier insulation. Roof is exposed to humidity not only from above, but also from beneath the roof. If vapor from inside meets waterproof layer and has no way out, it will penetrate and damage the waterproof layer or run across the walls. Vapor is eliminated through the micro-holes in the vapor barrier layer, barrier walls, cornices or air ventilation holes. If the total roof area exceeds 10 meters, installation of vent holes is a must, one per 60-80 m2.
In many cases, flat roofs are heat-insulated. Today, inverted roofs are constructed for that purpose. Of course, insulation can be placed upon the old waterproof layer and then covered with the new one. In most cases insulation serves as a vapor barrier as well. Mechanical resistance of insulating materials is selected after estimating potential loads on the roof. The following layers are recommended for the roof experiencing low stress:

1.Vapor barrier layer
2. Insulation board Finfoam FI-300
3. Waterproof layer from PVC membranes, more durable that bitumen roofing

If bitumen membrane is placed over expanded or extruded polysterol, they are covered with a thin layer of heat-proof rockwool board.

Accessible traditional flat roof has its waterproof layer covered with a protective layer of gravel, concrete flooring or reinforced concrete slabs.
Inverted roofs
While constructing or reconstructing a roof, a better solution would be to install an insulated inverted roof. In this case, insulation is placed over the waterproof layer, which protects the latter from sudden temperature changes, the sun and mechanical stress.

During the repair of such a roof, the old roofing is inspected. If damaged, it has to be removed. If there are slight signs of damage, bubbles are removed, after which the damaged spots are dried off and covered with a waterproof layer. Then a thermal insulation layer is placed over the waterproofing layer, next a filter cloth - diffusive membrane or geotextile is laid down. For surfacing, tiles, washed gravel or reinforced concrete are used.
It is not recommended to install several layers of thermal insulation to avoid seams overlapping. Cross seams are not allowed as well.

A wise decision is to use Finnfoam insulation. For a high load inverted roof, manufacturer recommends to install three layers of compression-resistant Finnfoam boards. The first type of boards, which is placed directly on the waterproofing layer, has grooves for draining water from the roof.
Inverted roof installed on the top of a shopping center ( parking area). For insulation, a 80 mm FI-400 board with grooves (one layer) and FL-400 (two layers) are used.

Solution for a high-load inverted roof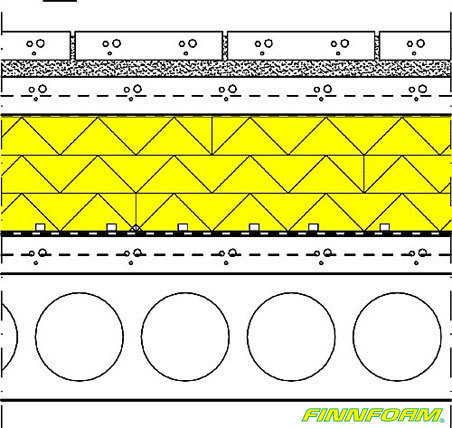 60...80 mm


concrete tiles or other type

of roofing according to the project

> 40 mm

sand layer for leveling
80 mm

reinforced concrete layer

filter cloth
240 mm

Finnfoam f300-700 insulation with grooves, depending on loads, waterproofing insulation
> 80 mm

Concrete layer for leveling and creating a slope, slope >1:80
bearing structure according to the project
vapor-permeable inner roof surface
ceiling finish according to the project
Heat transfer coefficient (w/m2k): f-300 u=0,16 W/m2k



Solution for a low-load inverted roof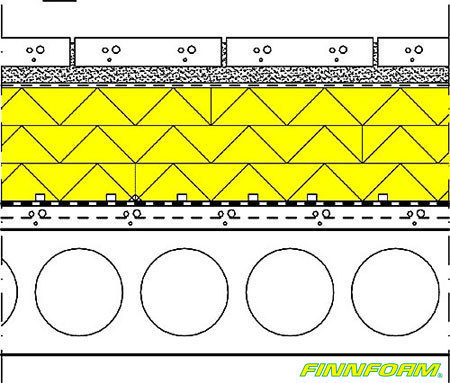 60...80 mm


concrete tiles

or other type of roofing according to the project

> 40 mm

sand layer for leveling

filter cloth
240 mm


Finnfoam f300 insulation with grooves
> 60 mm

concrete layer for leveling and creating a slope, sloping >1:80

bearing structure according to the project
vapor-permeable inner roof surface
ceiling finish according to the project
Heat transfer coefficient (w/m2k):
f-300 u=0,16 W/m2k





Solution for an inverted roof connected to a vertical wall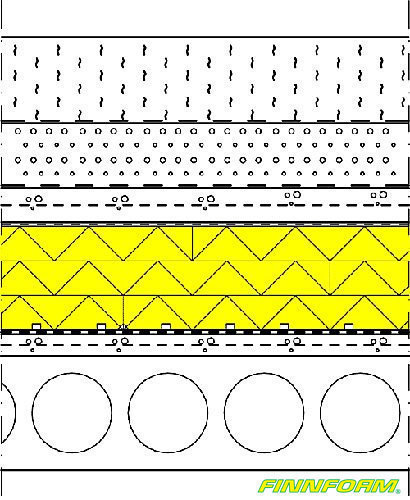 1
waterproofing insulation (bitumen, PVC or other) according to the project
2
filter cloth
3
vertical waterproofing insulation installed at the height of at least 30 cm from the roof surface
4
fastening element for finish and insulation boards ( as specified by the manufacturer)
5
free space allowing a slight displace of waterproofing insulation
6
connection of structural flooring board and wall structure according to the project
7
surface sand layer
8
Finnfoam F300-700 insulation, depending on loads

Green roofs
Green roof is an increasingly popular modification of inverted roofs. This type of roofs has a very long history, it is enough to remember the Hanging Gardens of Semeramide. Green roofs are widely used everywhere from Pamyr, where roofs are covered with fertile soil to grow vegetables, to Norway, where green roofs serve as a perfect thermal insulation.
Requirements to construct green roofs are different from those for usual inverted roofs, as in this case one should first take into account the ability of plants to penetrate into the smallest cracks and make them bigger. To protect the roof from roots, PVC or foil membrane are used.
Draining layer should be at least 100 mm thick, it can be executed in expanded clay or washed 5-20 mm large gravel. For filtering layer, synthetic fiber, mineral wool felt, or fiberglass are used.
Thickness of the soil layer depends on the way the roof will be vegetated. A lawn or flower beds require 10-20 cm, flowers or blooming bushes need 20-30 cm, while bushes and small trees require 40-70 cm of soil.

Solution for an inverted green roof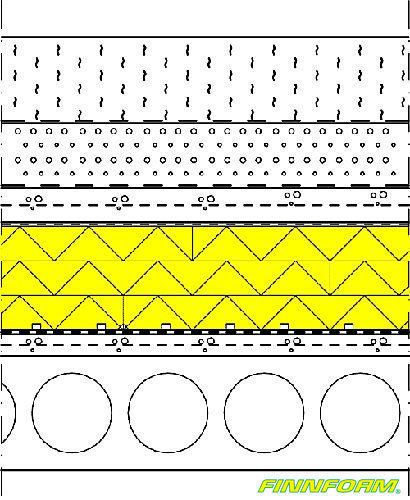 plants

> 200 mm
soil layer

filter cloth
> 150 mm
draining layer: crushed stone
root protection

80 mm
reinforced concrete layer

240 mm
Finnfoam F300-700 insultion with grooves, depending on loads
filter cloth
waterproofing insulation
> 60 mm
concrete layer for leveling and creating a slope, sloping > 1:80
bearing structure, according to the project

ceiling finish, according to the project
heat transfer coefficient (W/m2K)
F-300 U=0,15 W/m2K

Solution for an inverted green roof connected to an accessible roof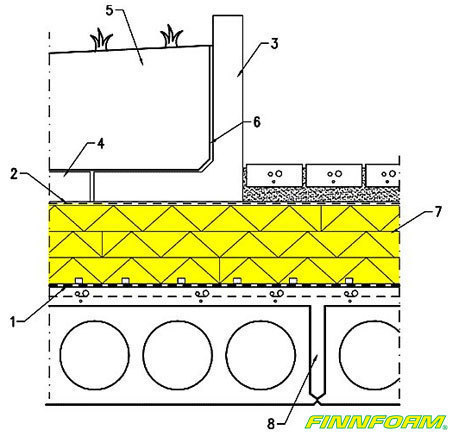 1
waterproofing insulation (bitumen, PVC or any other)
2
filter cloth
3
angle unit made of reinforced concrete
4
reinforced concrete
5
soil layer, depending on plants and bearing structures
6
root protection
7
Finnfoam insulation
8
flooring structure boards and their connection according to the project

The article uses FINNFOM roof building schemes