Electric fireplace as a warmth and decoration element in your house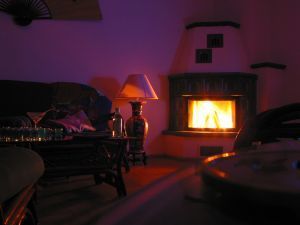 Sometimes even impossible things can get possible. These words can be told whilst dreaming about a fireplace in your home. There is already a chance to build a fireplace even in a small room without thinking of chimney or specific building works. Electric fireplace is a great fireplace solution in your home which is quite a new fireplace type in a modern market.
The fireplace looks small and does not take much space, though it has quite a big power of traction. What the electricity fireplace brings to your home interior is the coziness, calmness and light inviting people to gather together at the fireplace. Fireplace is normally a key element that everyone can both notice and smell. Classic fireplace (the bricked one fired by wood) is not affordable to everyone due to its price as well as the chimney which is actually needed. Luckily, nowadays there is a great alternative. It should be noted though that electric fireplace as well as the classic one needs a special space and its own audience. For example, electric fireplace is not suitable in huge ancient village houses as in this case a real, wood fired fireplace in needed. But when it comes to a small city apartment, electric fireplace is the only suitable solution to fulfill a dream of having a fireplace in your own apartment.


Electric fireplace is very much convenient, with easy to build and simple use characteristics. It brings warmth and light which are great advantages. It is a great solution when you cannot build a chimney at your place for the fumes to leave. What is more, whilst working electric fireplace makes no problem - it does not sweep along or get sooty; you also don't need to stoke it all the time. Electric fireplace of a better model can be turned on with a remote control, without getting up from the sofa. As such type of fireplace does not have open fire it is definitely safer without being concerned of small children in the house. Electric fireplaces are highly used in public places including hotels exhibitions.
The construction of electric fireplace is very simple as it has classic electricity heaters joint to a flame imitation. The principles of flame imitation vary on a manufacturer; however the simplest design is the fireplace with a lamp together with various elements spinning all around it, making the impression of a flame.
Electric fireplace flames are undoubtedly a pleasure to observe. Normally they are designed in a way that the form of a flame would not be repeated and gets changing at all times. It visually makes an effect of a flame, that's why electric fireplaces look like real ones as if they were fired with wood. It should be understood, that electric warmth and artificial flame will not replace the uniqueness of a fireplace - spitting of wood, sparking and a special smell of a flame. Thus, if you are looking for these features, electric fireplace will not be a suitable solution for your home interior.
Electric fireplace first of all performs the aesthetic functions. For the heating of your area, it is just a small electric heater (if you want a fireplace-heater, you should find out what is its output and consider whether it will be enough for the heating of a particular area). Electric fireplace brings warmth which is enough for the heating of the area of a particular type, but it is not a sensible solution for the heating of the whole living or working area. Electric fireplace functions in a quiet way. The warmth air goes slowly and evenly making sure that the warmth is divided evenly from the floor up to a ceiling. Electric fireplace can be used not just as a heating object but also as the lighting element in the area. The fireplace has a built-in heater which is easy to control. During a colder season, the output of the fireplace can be switched from 1 to 2 kW. In hot summer, it is better not to switch the heater at all.
Decoration of electric fireplaces is quite different. The choice of decoration is very wide - some of them are very much alike the classic ones, fired with wood even with the design of artificial wood piles or carbon as well as decorative fences. Such type of fireplace can be even confused with a real one. Normally, the decoration of electric fireplace is not very massive and heavy as in real fireplaces. These are lighter in weight and smaller fireplaces.
Electric fireplaces can be purchased in major building materials' trading centers as well as the specialized fireplace companies which also offer such services as fireplace build in and its decoration, full service and warranties. If you are thinking of building an electric fireplace yourself, first of all the advice is to find out the building instructions for a particular fireplace as well as the warranties. The building processes of most fireplaces simple as all you need to do is find a suitable place for a fireplace (it is important that the location of a fireplace would be close to a power source) and build it in.
Mainly, all the electric fireplaces are similar with differences only in its decoration and details. Naturally different manufacturers offer slightly different nuances.