A dining table is one of the most essential pieces of furniture in a dining room or an open-concept kitchen. It indeed is quite a massive investment in your house so when choosing a table, it's important to not only take into consideration the aesthetic qualities of a table; it has to be a practical choice as well. Due to a huge variety of dimensions, forms, and materials, it might be quite difficult to choose the right table for one's home. To make the process easier, it's important to consider a few criteria.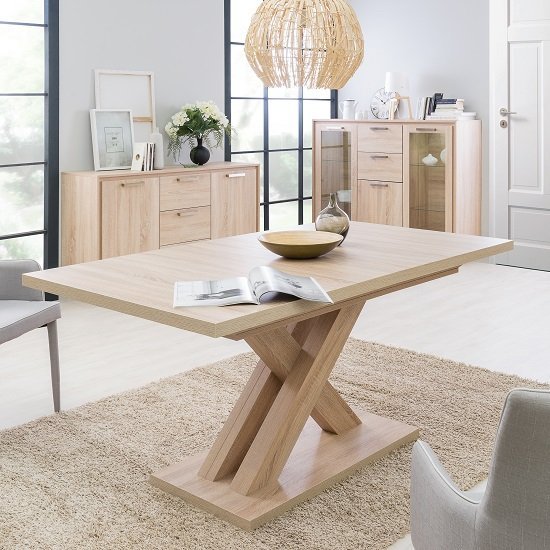 A dining table. Click on this safe link to buy this table: https://tidd.ly/3r3UJLd
Dining table dimensions
The very first criterion that must be considered when looking for a dining table is dimensions. Not only the number of people that are to sit at the table on a daily must be considered but also the size of the dining room and where the table is placed in there.
Consider whether the table is going to be in service for a couple of people or a bigger family, whether it's going to be used every day or only sometimes. Also, think about how much open space there is in the house. There's nothing worse than a disproportionately large table in a small space. By analogy, a tiny table wouldn't look great in a spacious room as well. In a roomy area, a rectangular table fits ideally while for a place that lacks open space it's best to choose a square or round one. Remember, some free space must be left around the table to move without restraint, it's best to keep at least 70 cm of space around each side of it. Lastly, have in mind where the table is going to be placed in the room. This might help to pick the most suitable variant.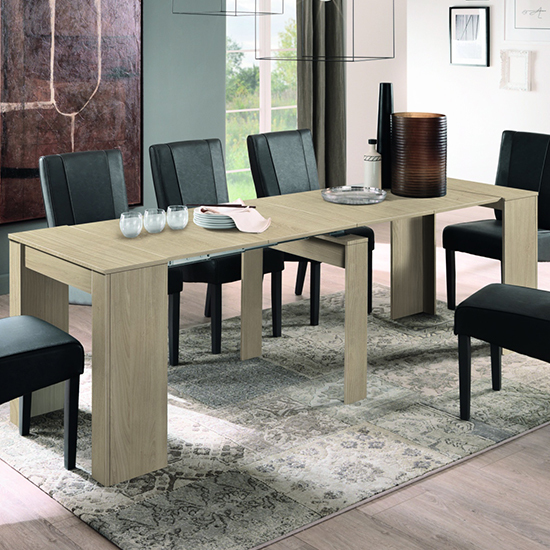 A large dining table. Click on this safe link to buy the product: https://tidd.ly/37kLpM4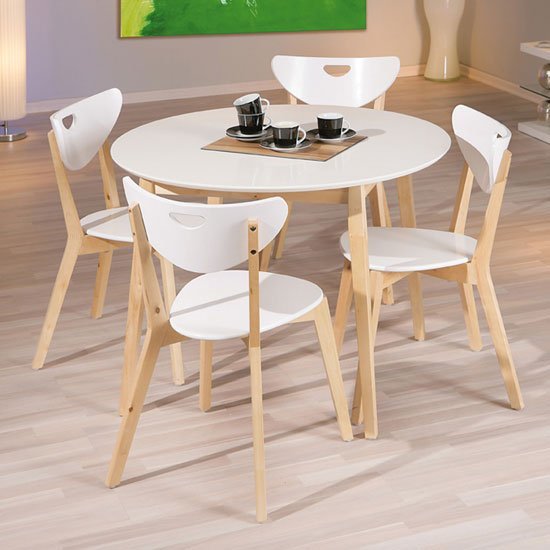 A small dining table. Here's a safe link to buy the table: https://tidd.ly/3u71VrU
The shape of a dining table
Rectangular table
A rectangular dining table shape is the most common one in a dining room. Such a functional and practical table perfectly fits in an oblong area. Accommodates the largest quantity of people compared with tables of other shapes. What is more, the rectangular table keeps people seated close to each other.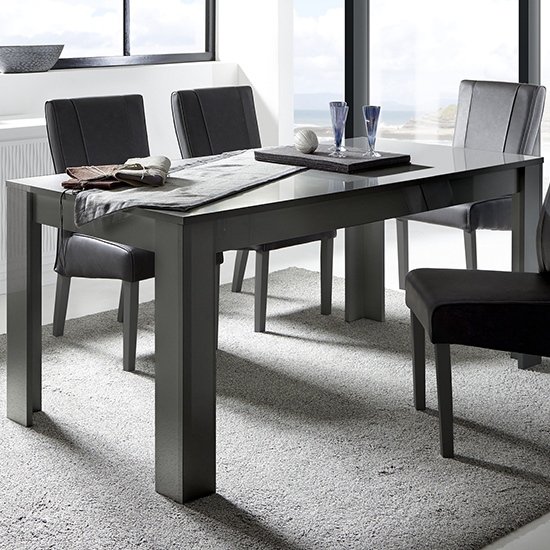 A rectangular dining table. Click on the active link above to buy the table
Square table
A square dining table is perfect for a house with limited space, especially if the dining table is placed in the kitchen. Such table accommodates 2-4 people. If you're looking for a space-saving solution, you may push the table into the corner after you've finished using it. Of course, you can choose a large square table that seats up to 8 people, however, the larger the table the more space it occupies and makes people seated not as close.
A square dining table. Click on the active link above to buy the product
Round table
A round-shaped table is very appealing and creates a communication-friendly atmosphere since everyone can see each other when sitting at this kind of table. Such tables fit in both space-limited and spacious areas. Having round corners, the table makes it easier to move around in a small room. Seating capacity depends on the table diameter, the number may vary from 2 to 8 people. You may also consider purchasing an extendable round table. However, then have in mind that a large round dining table that accommodates, for example, 6 guests, takes significantly more space than a rectangular one that seats the same number of people.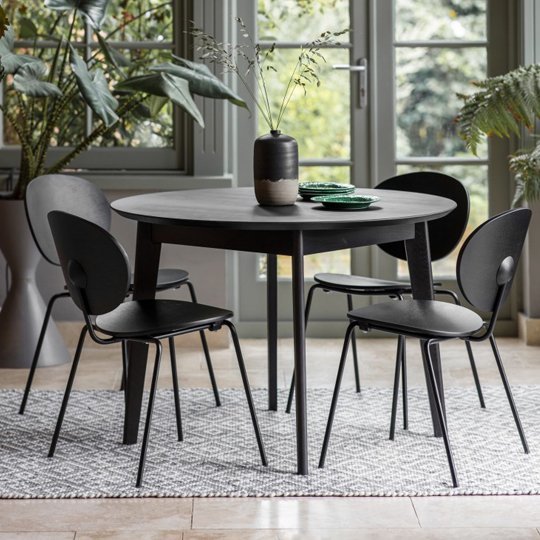 A round dining table. Click on a safe link to buy: https://tidd.ly/3DPD4fy
A small round dining table. Here's a safe link for the product: https://tidd.ly/3O0eHR0
Oval table
A perfect mixture of round and rectangular shapes is an oval dining table. Such a shape of a table won't overload a room with strict, sharp edges. It also takes up less space than a round or rectangular table. Oval tables usually sit 6 and more people.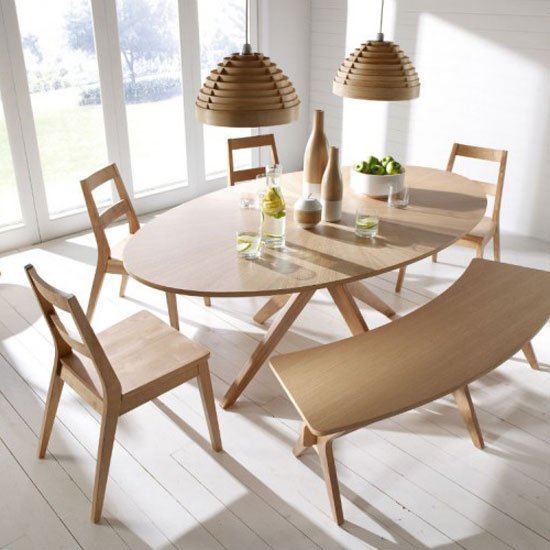 An oval dining table. Click on the active link above to buy this table
Dining tables can also be of expandable type. According to one's needs, such table may be expanded, this way the number of seats is increased. A table of such type is a practical alternative that may save space as well as hold a larger number of seats.
Dining table material
When looking for a dining table it's also important to select the material it's made of. To be aware of which table material complies best with your needs, you must consider how often the table is going to be used, to what extent you are going to take care of it, and, certainly, the interior design style of your home.
Wood
A classic, long-running variant is a wooden dining table. Being practical and solid, it stands out for its authenticity and naturality. Wood is a versatile material, it's very easy to incorporate wooden tables into many interior design styles. Light-shaded wooden table best suits Scandinavian or minimalist home interior design while dark-toned wood fits industrial or modern ones. The longevity of a wooden dining table may be ensured by coating the table with a few layers of protective varnish.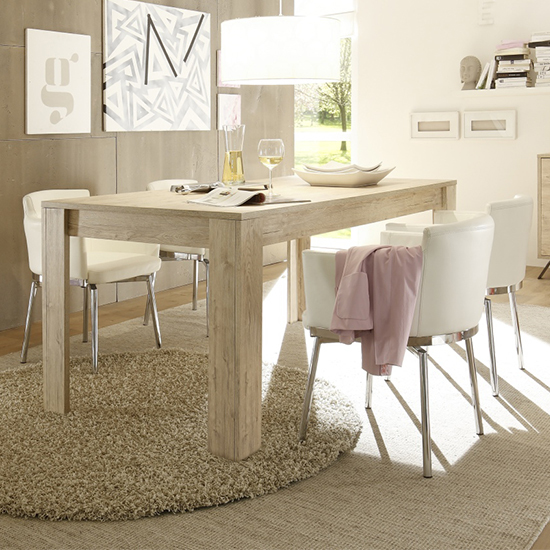 A wooden dining table. Click on the active link above to buy the product
Laminate and melamine
As an alternative to a wooden table, you may choose a dining table made of laminate or melamine. These materials are durable and hardy. Serve as an imitation of wood but for a significantly lower price.
Glass
If you aim at designing an elegant and sophisticated dining room, you may choose a glass dining table. This material provides the home with brightness, visually creates a sense of a spacious area, fits best in a small room especially. On the other hand, a glass table requires quite a lot of care, it must be thoroughly cleaned regularly for the table to retain its elegance.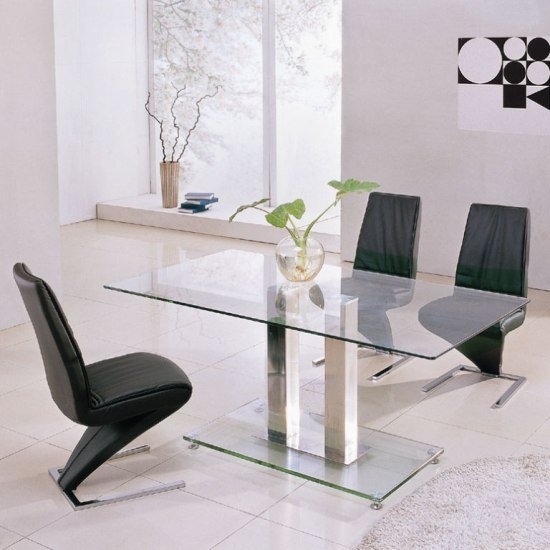 A glass dining table. Click on the active link above to buy this product
Concrete
If your house is dominated by industrial interior design, intentionally unfinished surfaces decor, a concrete table may complement your house with character. This table guarantees its easy are as well as definite solidity and longevity.
Steel
Another material perfect for industrial interior design is steel or stainless-steel table. A dining table made of such materials imparts a sense of coolness and modernity to a room.
Plastic
A cheaper alternative compared with previously listed tables is a plastic dining table. It's a less solid and durable piece of furniture, however, will serve its purpose perfectly.