City Life's modern design and atmospheric lighting concept make it one of Villeroy & Boch's internationally most successful self-contained furniture collections in the premium range. City Life has developed into a complete bathroom range with attractive new products; this gives the bathroom a new emotional appeal and raises it to a new level of comfort. City Life from Villeroy & Boch is thus fully in keeping with the latest international trend defining the bathroom as the "grooming room", an all-round room for pampering the mind, body and soul and that combines the functions of a beauty salon, fitness room and dressing room. Although extremely practical, the functional aspects are completely concealed and the focus is on the stylish look. This gives rise to a new, light and airy atmosphere in the bathroom.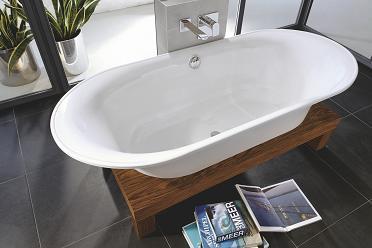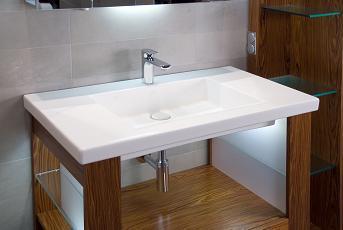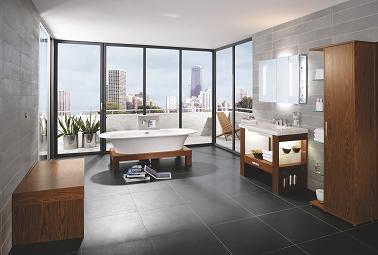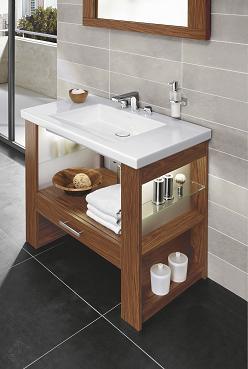 SmartBench WC bench for innovative bathroom design

Seeing and opening the City Life WC bench SmartBench for the first time is a real surprise since this elegant piece of wooden furniture conceals a ceramic toilet that is only visible when the seat is opened. The WC with the easy-care Ceramicplus finish, a wooden seat matching the overall design, toilet rolls and brush are integrated into a frosted glass panel in the piece of furniture itself. Thanks to the Soft Closing technology, the entire toilet functions can be soundlessly shut away in a matter of seconds. The result: an attractive seating facility in stylish real wood veneer that enhances the appearance of the bathroom. The "invisible WC" opens up completely new planning possibilities for the bathroom as an area for regeneration and fitness. The SmartBench can also be used as decorative element.

Washbasin, furniture and bath for purists

An extremely clean-cut and minimalist, 100 cm wide vanity washbasin without overflow is also new; this has a ceramic valve cover that is perfectly at home in the pure white aesthetics of the basin as a whole. The so-called Metric Art washbasin that is suitable for both wall outlet and raised pillar taps is offered in White Alpin with the easy-care Ceramicplus finish and in Star White with Ceramicplus, as well as with the antibacterial Activecare glaze. A new matching vanity unit is also available.

A new, high-quality, real wood veneer finish was developed for the City Life furniture: Okuree is a composed real wood veneer that does not occur in this form in nature. All the furniture is also still available in the colour walnut. These high-quality woods, elegantly combined with indirect lighting of the glass shelves, highlight the top quality of the exclusive City Life premium collection to particular effect and give the room an exceptionally comfortable atmosphere.