Bright Alternatives for Kitchen Lighting
By Paul Biancina

If you're looking for ways to brighten up your kitchen, there are some interesting alternatives for kitchen lighting that go well beyond the standard ceiling light.To light up specific work areas or to highlight artwork or the contents of a cabinet, there are a number of miniature low-voltage halogen lights on the market. These small, round lights are only about two inches in diameter and can be mounted just about anywhere in the kitchen: inside or under your upper cabinets, over a desk area, mounted to a valance over the sink, or just about anywhere you need some additional concentrated light. For display purposes, you might consider an upper cabinet with glass doors and glass shelves. Mount the lights in the top of the cabinet, and the light will shine down through the shelves and do a beautiful job of highlighting your collection of prized china.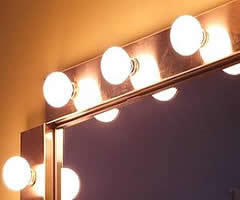 There are 10- and 20-watt fixtures available, with trim rings in black, white or polished brass. Operation requires a 12-volt transformer, and one transformer should operate a total of 60 watts - three 20-watt fixtures or six 10-watt units.

With the low-voltage lights, there are a number of control options as well, including low-voltage switches that mount anywhere in the cabinet, and low profile micro switches that can be set up to activate the lights whenever a specific cabinet door is opened. These are ideal for display cabinets and china hutches. There are even dimmer wiring kits that connect the fixtures to any metal hinge, knob or pull. Tap the hinge or knob with your finger to turn the lights on at 25 percent, 50 percent, or 100 percent, or to turn them off again.

Another option is the low-profile strip light, which clips under or inside a cabinet. These unobtrusive fixtures shed a soft, diffused light and are available in 10- and 20-inch lengths in brass, black or white. They operate on standard 120-volt current, and have a built-in switch that is prewired into the cord. The bulbs are not replaceable (you discard the entire fixture when it burns out), but they have a life span of about 40,000 hours.

One popular trend for the kitchen or for a variety of other locations throughout the house is the rope light. Rope lights consist of a clear plastic tube with a string of small lights inside and are great for soffits, valances, toe kicks, along steps or railings, around the perimeter of a floor - anywhere your imagination can come up with. The lights are available in clear, red, yellow, green, blue and orange, and can be used both indoors and outdoors in temperatures ranging from -4 to 140 degrees.

Rope lights are very easy to install, and can be configured just about any way you want. They are sold in three-foot increments, and can be cut to as short as 18 inches or linked together for up to 150 feet on one circuit. There are a variety of connectors available that allow you to splice the ropes end to end, in a T-shape, or in a Y-shape. If you would like to start a run of rope light, stop it, and then start up again at a different spot, there are also two foot and six foot long unlighted rope-to-rope extension cords.

The rope lights are mounted using mounting clips or three-foot long mounting channels, which attach to just about any type of surface using screws or self-adhesive mounting tape. After mounting the clips or channel in the desired area, the rope simply snaps into it.

Rope lights work off standard 120-volt power. A power connector plugs into one end of the rope, then a six foot power cord plugs into the other end of the power connector. The power cord ends in a male plug that plugs into any standard electrical outlet, and a plastic end cap is used to seal off the other end. For outdoor use, an optional photocell adapter can be used that simply plugs into an outlet, allowing automatic dusk-to-dawn operation of the lights.

All of these fixtures should be available from local lighting stores, electrical supply retailers or home centers. Remember to use only UL-listed fixtures and parts, and always consult with a qualified, licensed electrician for assistance on any wiring project you're not comfortable with.