By Paul Bianchina

If a bathroom makeover is in your upcoming plans, one of the most important selections you'll be making is the flooring. The proper floor will enhance the appearance, the maintenance, and even the safety of your bathroom, so it's fun to weigh all of your flooring options before making a final selection.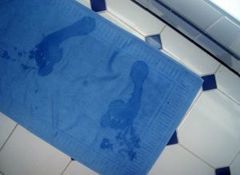 Sheet Vinyl: Perhaps the most common choice today, sheet vinyl comes in a huge array of colors and patterns. Sheet vinyl is attractive, highly water resistant, and very affordable, and since it's available in both 6- and 12-foot widths, most bathrooms can be done without a seam.

Vinyl Tiles: Made from the same materials as sheet vinyl, vinyl tiles are inexpensive and easy for the do-it-yourselfer to install. Most are in 12-inch-by-12-inch squares, so they have the drawback of lots of seams, but the advantage of being able to mix and match different colors in some very striking patterns. Vinyl tiles are also available in larger squares up to about 18-by-18 to minimize the number of seams.

Marmoleum: Marmoleum is the brand name of a type of flooring manufactured in England. It is an all-natural product made from linseed oil, wood flour, pine rosin, jute and limestone, and comes in a number of colors and patterns. Marmoleum is a great choice for anyone seeking an attractive, natural, and biodegradable flooring material that is also very hygienic.

VCT: VCT stands for vinyl composite tile, and they are a thick, heavy, virtually indestructible 12-inch square tile of the type seen in many commercial buildings. VCT comes in several colors, and the industrial look of these tiles is perfect for certain types of designs.

Ceramic Tile: A classic choice for bathroom floors, ceramic tile is timeless, beautiful and comes in so many sizes, shapes, colors and patterns that the design possibilities are virtually limitless. Tile size ranges from tiny mosaics to very large squares, with the larger tiles looking best in larger rooms. With any ceramic tile being used where water is present, select an unglazed or slip-resistant tile for safety.

Travertine: Travertine is a natural stone tile, also sometimes known as travertine limestone and travertine marble (same material). Travertine is a beautiful material with a classic look, characterized by veins of color and small, irregular holes in the surface. Most travertine tiles are large, often 18 inches square, and look best in larger rooms. The tiles can also be cut down to smaller sizes.

Other Natural Stones: For a truly elegant room, other natural stones such as marble and slate tiles offer yet another option. These tiles tend to be at the upper end of the price scale, and while they can be used in rooms of any size, they tend to look best in larger areas.

Carpet: For a warm and quiet floor, nothing beats carpeting. Many of today's carpets are stain-resistant and moisture-resistant, and can be used with very good success in the bathroom, although it might be best to avoid them in bathrooms used primarily by children, where excessive splashing might be an issue.

If cleaning and hygiene is a concern, you can also consider combining carpet with other materials. For example, you could use sheet vinyl, ceramic tile, or a material such as travertine in toilet areas and outside tubs and showers, with soft and quiet carpeting in the rest of the room.

Hardwood Floor: Advances in finish materials have made hardwood flooring a more viable option for the bathroom than in years past. Finish-in-place hardwood, where the finish is applied on-site in several continuous coats, is a better choice for bathrooms because it eliminates the open cracks between the boards that occur with pre-finished flooring. And as with carpeting, you can also create some beautiful combinations by blending hardwood flooring with other, more water-resistant materials such as vinyl or stone.

Laminate Flooring: The surface finish on most laminate flooring is water-resistant enough for use in the bathroom, providing splashing is kept to a minimum. Check the manufacturer's specific warranty on use of these flooring products in a bathroom, and also consider combining them with other, more water-resistant materials as mentioned above.