Red Hi-Tech Kitchen design
Flux corner composition in the "Hi Tech" version styled by Giugiaro Design is distinguished by the visible frame and the glossy lacquered doors in the new metallic red colour. Tops and wall panels are made of steel.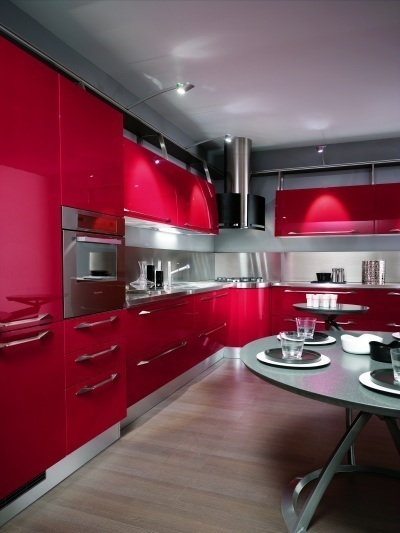 The circular, corner cooking zone featurs a base with a revolving basket and a cylindrical hood with black mat lacquered wings to create great visual impact. It is perfect for the most modern lofts and is rounded off by an exclusive central accessory, a design and furnishing object with an futuristic shape: a round table with a metal support in grey metallic finish and a lower top in fibre board with a grey lacquered slanted edge, top in Cristalan or Quartz (available in various colours) and a side shelf to be used as a support for a serving dish. A chair and a stool designed especially to match the table, have regenerated leather seat and methacrylate back. The setting is completed by a futuristic suspended LED light fixture.