How to choose kitchen sink
By Paul Bianchina

For anyone who is considering a new or remodeled kitchen, there are dozens upon dozens of decisions to make. One that's important but typically not given all that much thought is what type of sink to use.

Kitchen sinks come in a wide variety of sizes, shapes, materials and price ranges. It's something that you'll be living with in your kitchen for a long time, so a little comparison shopping is worth the effort.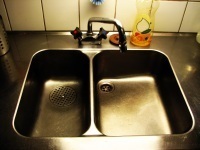 Sizes and Mounting Options
The standard for most kitchens is the double-bowl sink, which is 33-by-22 inches in size. There are lots of options in bowl configurations, including two bowls of equal size and depth, bowls of unequal width or different depths and sinks with one very large bowl and one small one that's primarily designed for the garbage disposal.
Single bowl sinks, which can be as little as 12 inches wide, work well in small spaces, and larger triple bowl sinks add convenience if you have enough room for them - some are more than 48 inches wide. And speaking of space, there is also the option of commercial-grade restaurant sinks that can be more than six feet long including drainboards.
Sinks mount in one of two places - above the counter or below it. Above-counter installations are more common, and are easier to install. Below-counter mounting offers a somewhat less obtrusive appearance and easier cleaning, but the sinks are more expensive and more difficult to install. Also, you'll find a much greater selection of sinks for mounting above the counter than below.
Materials
The type of material that you select is dependant on the look of the kitchen, your own maintenance preferences and your budget. There's no "perfect" sink material and you'll find advantages and disadvantages to each.
Stainless steel: This is the most common sink material, primarily because it's durable and cleans easily. There's a wide range of prices available, but sinks at the lower end are thinner gauge metal, which means they're noisy and easy to dent. Look for steel that is at least 20-guage, with 18-guage being preferable (the lower the gauge number, the thicker the material).
You have the option of finish as well, ranging from brushed - the dullest finish and currently the most popular - to polished, which is the brightest finish. Most stainless steel sinks are self-rimming - they have a finished edge for above-counter mounting, and are held in place with clips installed from below. Under-counter mounts are also available.
Cast iron: Porcelain-coated cast iron sinks have a deep, rich appearance that fits well with just about any kitchen and are very durable. They are heavy and quiet and are available in a wide variety of colors. Most styles are self-rimming for above-counter mounting and are held in place with an adhesive caulk - as well as their own weight.
Enameled steel: These sinks have an enamel coating over a steel base, and range from moderately priced to quite inexpensive - and you definitely get what you pay for. Lower-end sinks are thin, noisy, and have a finish that chips and wears easily. Higher-end enameled steel sinks utilize a resin coating that is much more durable, as well as having thicker, quieter steel. Most enameled steel sinks are designed for above-counter mounting and can be either self-rimming or mounted with a separate installation ring.
Solid surface: Solid surface sinks, such as Corian, are durable, attractive and easy to clean. If you are having a solid surface counter fabricated, you can have a matching or contrasting solid surface sink molded right into the counter - it makes for a very clean, virtually seamless installation. Solid surface sinks are also available in self-rimming models for installation into other types of counters.
Composites: These are the newest of the kitchen sinks and are manufactured from a composite of materials such as acrylic and quartz. There are a growing number of color options available and since the color goes all the way through the sink, chips and nicks are hardly noticeable. Composite sinks are available in standard configurations and a growing variety of other shapes and sizes and can be mounted above or below the counter.